Year of the Fire Rooster 2017 arrived with a triple bonus!
1. Double Li Chun Year
It means that there is two Li Chun in a Lunar Year. Li Chun for
Rooster year start on 3/Feb/2017 which is the Lunar 1st Month
7th day and Li Chun 2018 start 4/Feb/2018 which is Lunar 12th
Month 19th day. This is an auspicious omen. Many couples may
take this occasion to get married and start a family. They will be
blessed with happiness, prosperity, longevity and abundant of
children.
2. Lunar "Run" month.
This symbolise that there will be two identical Lunar 6th Month
in a Lunar year. Chinese Culture adore the double digits which
imply double happiness and auspiciousness.
3. Li Chun falls on Lunar 7th day which is also the "Ren day".
In Chinese tradition, the Lunar First Month 7th day is the "Ren day" which it is deem as every human being birthday. So there is
double celebration for this particular occasion.
For those couple who wish to exchange their vows and get married, below are some of the auspicious dates which you can consider to take advantage of this special 2017.
1) 31/Jan/2017 (7am to 9am) or (11am to 1pm) Not applicable to
Zodiac Rat (33 years old) and (45 Years old)
2) 13/March/2017 (11am to 1pm) Not applicable to Zodiac Snake
(40 years old) and (52 years old)
3) 31/March/2017 (7am to 9am) or (9am to 11am) Not applicable
to Zodiac Pig (34 years old) and (46 years old)
4) 21/April/2017 (7am to 9am) and (1pm to 3pm) Not applicable
to Zodiac Monkey (25 years old) and (37 years old)
5) 20/June/2017 (7am to 9am) and (9am to 11am) Not applicable
to Zodiac Monkey (25 years old) and (37 years old)
6) 23/June/2017 (7am to 9am) Not applicable to Zodiac Pig (22
years old) and (46 years old)
7) 5/July/2017 (5am to 7am) and (7am to 9am) Not applicable to
Zodiac Pig (22 years old) and (46 years old)
8) 15/Sep/2017 (11am to 1pm) Not applicable to Pig (34 years)
and (46 years old)
9) 21/Sep/2017 (5am to 7am) and ( 11am to 1pm) Not applicable
to Zodiac Snake (28 years old) and (52 years old)
10) 3/Oct/2017 (7am to 9am) and (11am to 1pm) Not
applicable to Zodiac Snake (40 years old) and (52 years old)
11) 10/Oct/2017 (5am to 7am) and (11am to 1pm) Not
applicable to Rat (21 years old) and (33 years old)
12) 2/Nov/2017 (7am to 9am) and (9am to 11am) Not
applicable to Zodiac Pig (22 years old) and (46 years old)
13) 11/Dec/2017 (7am to 9am) and (9am to 11am) Not
applicable to Zodiac Tiger (31 years old) and (43 years old)
14) 26/Dec/2017 (7am to 9am) Not applicable to Snake (40
years old)
15) 28/Dec/2017 (5am to 7am) and (9am to 11am) Not
applicable to Zodiac Goat (26 years old) and (50 years old)
16) 3/Jan/2018 (5am to 7am) and (11am to 1pm) Not
applicable to Zodiac Ox (32 years old) and (44 years old)
17) 5/Jan/2018 (11am to 1pm) Not applicable to Zodiac
Rabbit (30 years old) and (42 years old)
18) 31/Jan/2018 (5am to 7am) and (7am to 9am) Not
applicable to Zodiac Snake (40 years old) and (52 years old)
2017(丁酉)年迎来三喜
1. 双立春
丁酉年将会有两个立春。二零一七年立春在二月三日,也就是农历正月初七。二零一八年立春在二月四日,也就是农历十二月十九。这是一个吉祥之兆。有情人不妨趁这一年共结连理,组织家庭;能收到满满的祝福,幸福,丰裕,长寿和子孙满堂。
2. 闰月
闰月也就是说今年会有两个相同的农历六月。在华人传统,大多喜欢双数字,也就是好事成双的意思。
3. 2017年立春和人日在同一天
在华人传统里,农历正月初七定为人日,也就是每个人的生日。刚好立春也在同一天,值得庆祝!
如有要订婚或履行婚礼的情侣,不妨考虑以下的吉日:
1. 一月三十一日(早上七点至九点),(早上十一点至下午一点)。此日不适肖鼠(33岁,45岁)
2. 三月十三日(早上十一点至下午一点)。此日不适肖蛇(40岁,52岁)
3. 三月三十一日(早上七点至九点),(早上九点至十一点)。此日不适肖猪(34岁,46岁)
4. 四月二十一日(早上七点至九点),(下午一点至三点)。此日不适肖猴(25岁,37岁)
5. 六月二十日(早上七点至九点),(早上九点至十一点)。此日不适肖猴(25岁,37岁)
6. 六月二十三日(早上七点至九点)。此日不适肖猪(22岁,46岁)
7. 七月五日(早上五点至七点),(早上七点至九点)。此日不适肖猪(22岁,46岁)
8. 九月十五日(早上十一点至下午一点)。此日不适肖猪(34岁,46岁)
9. 九月二十一日(早上五点至七点),(早上十一点至下午一点)。此日不适肖蛇(28岁,52岁)
10. 十月三日(早上七点至九点),(早上十一点至下午一点)。此日不适肖蛇(40岁,52岁)
11. 十月十日(早上五点至七点),(早上十一点至下午一点)。此日不适肖鼠(21岁,33岁)
12. 十一月二日(早上七点至九点),(早上九点至十一点)。此日不适肖猪(22岁,46岁)
13. 十二月十一日(早上七点至九点),(早上九点至十一点)。此日不适肖虎(31岁,43岁)
14. 十二月二十六日(早上七点至九点)。此日不适肖蛇(40岁)
15. 十二月二十八日(早上五点至七点),(早上九点至十一点)。此日不适肖羊(26岁,50岁)
16. 二零一八年一月三日(早上五点至七点),(早上十一点至下午一点)。此日不适肖牛(32岁,44岁)
17. 二零一八年一月五日(早上十一点至下午一点)。此日不适肖兔(30岁,42岁)
18. 二零一八年一月三十一日(早上五点至七点),(早上七点至九点)。此日不适肖蛇(40岁,52岁)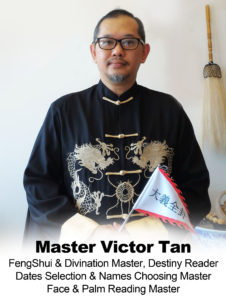 Master Victor Tan
Purple Dragon King 紫龙王