Now that we are aware when to start work or open business for 2017. But what do we do that day?
For workers and staff ( If possible, all workers are told to start on
the same day )
1. Bring oranges to the office to exchange as well as to wish the
bosses and colleague a happy new year in 2017 so as to obtain
auspiciousness and build relationship. Go to office with smile
and happiness so that benefactor luck will increase greatly. If
you look gloomy and sad, benefactor luck will avoid you
completely.
2. If possible, arrange with colleagues and bosses to gather at the
entrance before the selected time.
3. At the auspicious time, the boss with open the door. Everyone
will roll two oranges into the office and shout aloud auspicious
blessing words while standing outside the door.
4. The boss will be the first to enter the office. Once the workers
follow suit, pick up their own oranges and bring to their own
work station.
5. Next, everyone helps to open all the door, window (if possible),
switch on all the lights, switch on all the computers and
activate all equipment in the office.
6. The boss or boss representatives will then give inaugural
speech to everyone to usher in a fruitful year ahead.
7. If the previous year have not been a smooth year for you, I
would suggest changing office stationary or some of the items
that you use in the office such as pens, mouse, files, etc etc.
8. On this day, write down what you hope to achieve in your
career for the new year and insert this wish-list into a red
packet and keep in the office drawer. We hope that this will be
the driving force that can bring you to your destination goals.
**For bosses and CEO**
1. If bosses who regularly with their staff pray with offering to
deities such as Wealth deity please continue to do so as per
normal. But to those who do not have offering practise, I would
suggest engaging a Lion Dance troupe to activate and bring
wealth to the office with their drums and dance.
2. To bring prosperity to both staff and office, it is advised that
the boss should give a red packet to all staff to show his
appreciation as well as to generate happiness to workers which
will directly improve productivity to the company which will
reflect on the boss leadership. Killing two birds with one stone.
3. All equipment and work station on the boss office table must
be switch on and activated. It will be great if sales receipts
show sales on this day.
4. Prepare some light snacks like cakes to be distributed to staffs
as well as neighbour office and customers. These recipient on
getting these gift will praise and speak good words about the
boss and company which indirectly giving blessing to you.
开工大吉吉日已在早些时候分享。人人都知道这词"开工大吉",可是,又有多少人知道吉日当天需要如何做才能取得真正的"开工大吉"呢?
现在就教大家一下!
员工们(最好全体员工能在同一天回到工作岗位工作)
1. 带柑回公司与老板和同事拜年,打好关系和取得大吉。切记回公司记得带着好心情和微笑以取得贵人运。
2. 如果能办到,老板和全体员工在指定的时间在公司门口集合。
3. 老板就在吉时开公司大门,大家都以滚的方式,把手中的两粒柑从大门滚进公司里并且大声说出吉利的话。
4. 老板第一个进公司,员工随后,捡起两粒柑回到自己的桌位。
5. 接着,每个人都帮忙打开所有的门窗,灯,电脑和各机器。
6. 老板或代表就和大家说些勉励的话,共同迎接新一年。
7. 如果去年对您不怎样好,建议您更换一些文具。
8. 就在这一天,写下对新一年的工作目标,把该纸张放入红包里,将它收进抽屉。
老板和总裁
1. 如果往年都有做些迎财神还是祭拜活动,请务必继续。但如果没有,建议请舞狮到公司助兴!
2. 为了公司上下的繁荣兴旺,建议老板分发开工红包以表对员工的谢意。除此之外,还能让员工们开心,提高生产力。
3. 老板办公室内的灯,电脑和各机器。如果当天有行销收入,更表吉利!
4. 准备一些甜点分发给员工,左邻右舍和客户。拿到的人必会夸您和说您的好话,间接祝福您。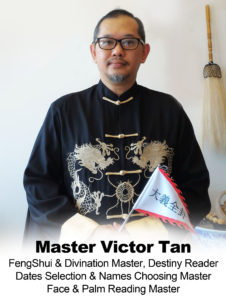 Master Victor Tan
Purple Dragon King 紫龙王